Joseph Beuys
Available Works
Joseph Beuys was a preeminent figure in the development of European 20th Century art. As a teacher and performative artist, he educated a generation of artists who continue to push the artistic envelope in the 21st Century. Beuys' extensive and diverse work – comprising sculpture, drawing and performance – is rooted in concepts of humanism, social philosophy and anthroposophy. He is widely regarded as one of the most influential artists of the second half of the 20th century, who stated that "everyone is an artist".
Beuys was born 12 May 1921 in Krefeld, Germany, and later moved to Cleves on the Dutch-German border. In 1940 Beuys began to study medicine, but his studies were interrupted when he was drafted into the Luftwaffe. He was severely injured during a mission when his plane crashed in Crimea. He is rescued by a nomadic group of Tatars, who care for him, wrapping him in fat and felt, before he is found by a German search party. These organic substances would later become materials that he used recurrently having charged with almost mystical powers of healing.
After returning from the war Beuys decided on a new path away from home and medicine. In 1947 he enrolled in the 'Monumental Sculpture' program at the Düsseldorf Academy of Fine Arts, where he studied under Joseph Enseling and Ewald Mataré; and in 1951 he was accepted into Mataré's master class where he began to develop his own technique and forms of expression. The 50s are a difficult time for Beuys; he struggled to establish himself artistically, but during these years of self-doubt he carried out scientific studies and drew extensively. However, in 1961 Beuys was appointed Professor of Monumental Sculpture at the Düsseldorf Academy. His teaching style was unique and effectively dismissed the notion of making any physical objects, instead he considered the exchange of ideas and the pursuit of knowledge as the fundamental role of the artist. He remained there until 1972 when he was fired for refusing to limit the number of students in his classes and for admitting students who hadn't passed the entrance exams.
Performances, or 'actions' as Beuys termed them, were central to his work. One of his earliest, a 1965 performance at Galerie Schmela, "How to explain pictures to a dead hare", radically shifted the boundaries of what art could be. Other famous actions such as "I like America and America likes me" performed in New York in 1974 extended his international reputation. The release from teaching in Germany allowed Beuys to travel and he made frequent trips to the Edinburgh International Festival and also Dublin where he pursued his love for James Joyce. His time in the British Isles resulted in shows at Modern Art Oxford, the ICA and the Royal Academy. In 1976 Beuys represented West Germany at the Venice Biennale and he was frequently invited to stage works at Documenta starting in 1964 and concluding with 7000 Eichen (7000 Oaks) in 1982.
In 1978 Beuys was made a member of the Akademie der Künste, Berlin. His first retrospective was held at the Solomon R. Guggenheim Museum, New York, in 1979; and was followed by further survey shows at the National Gallery of Australia, and Seibu, Japan, in 1982 and 1984 respectively. In January of 1986 Beuys receives the Wilhelm Lehmbruck Prize in Duisburg but dies shortly after in his Düsseldorf studio from a severe lung disease. Since his death Beuys' work has been celebrated in the UK with solo shows at the Tate Liverpool, 1993; The Royal Academy of Arts, 1999; and Tate Modern, 2005.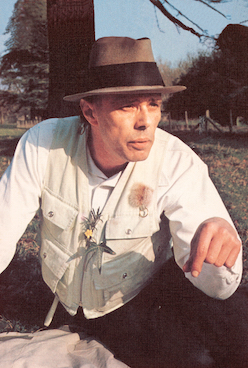 Joseph Beuys, Blenheim Park Oxfordshire 1974, Photographed by Heiner Bastian.
Publications for Joseph Beuys