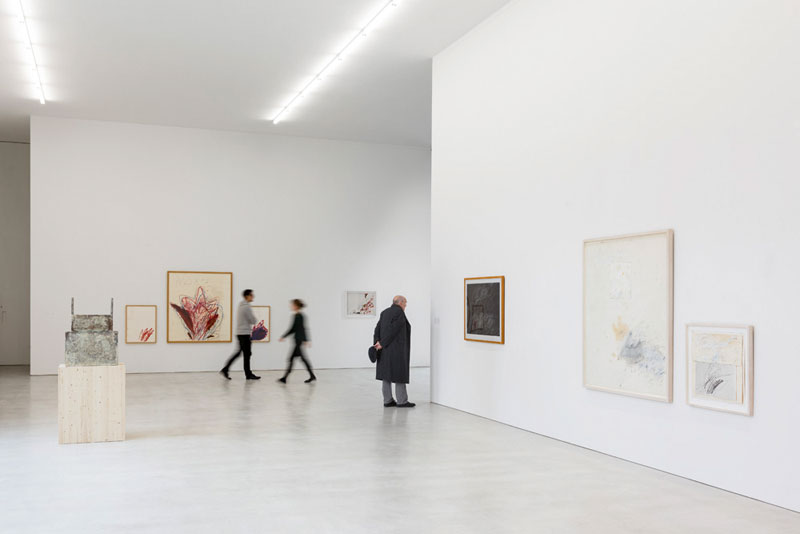 Berlin
Cy Twombly – A Mediterranean World
Exhibition Dates
8 September - 10 November 2012
Address
BASTIAN
Am Kupfergraben 10
10117 Berlin-Mitte
The uncompromising originality and poetic depth of Cy Twombly's works make him one of the twentieth century's most outstanding artists. His works touch a poetic vision through their abstract ciphers, lines and characters. With the dissolution of the physical world and the immaterial realms of language and reason, his works seem to search for an "ineffable" if not archaic idea.
As a painter and sculptor Cy Twombly repeatedly evokes the Mediterranean world as the cradle of Western civilization and scene of the Greek and Roman myths.
Amongst the most remarkable of the artist's graphic works have been included the two portfolios, Natural History Part I and Part II, of which the second part can be found in the exhibition under the subtitle »Some Trees of Italy«. With the title Natural History, Twombly refers to the oldest fully narrated, systematic encyclopedia; Plinius' Naturalis Historia which appeared in 37 volumes in 77 AD. Here too, the viewer experiences the dissolution of form and the purpose of figurative and linguistic description in an ineffable way. It is reduced to the most essential distillate of the subject, which can be hypothesized, but hardly understood rationally.
Twombly's photographic work, which has only recently become known to the larger public, was displayed in our exhibition in Berlin for the first time. His Polaroid shots of his own work, everyday objects and historic architecture present a shift towards the fragmentary image.
Cy Twombly was born in 1928 Lexington, Virginia. He studied in Boston and New York (where he met Robert Rauschenberg), and upon Rauschenberg's advice, continued his studies at Black Mountain College in 1951 and 1952. Here, he met and worked with artists such as Franz Kline, Robert Motherwell and John Cage. In 1952 and 1953, he and Rauschenberg travelled through North Africa and Europe. In 1957, Twombly moved to Italy, where he got married, and where his son, Alessandro, was born. In his later years, he principally worked in Rome, Gaeta and Lexington. Cy Twombly's works can be found in major museums worldwide such as the Museum of Modern Art, New York, Tate Modern, London and the Musée du Louvre, Paris. Cy Twombly passed away in July 2011 in Rome.