Anselm Kiefer the new artist of the Pantheon
Announcement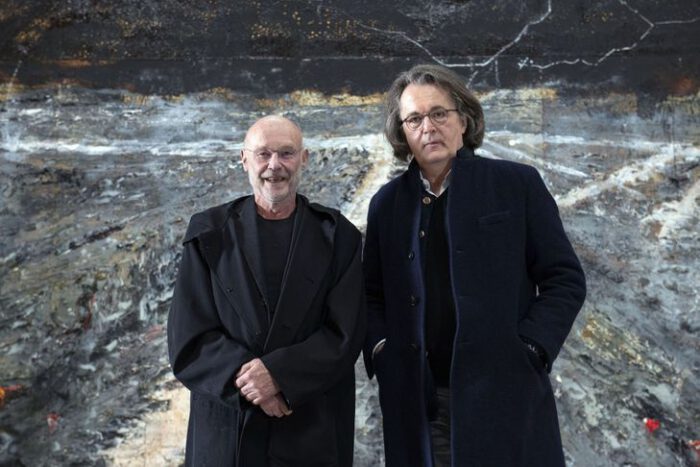 Anselm Kiefer and Pascal Dusapin at the Pantheon in Paris, 11 November 2020.
To commemorate the memorial ceremony of the great writer Maurice Genevoix taking place at the Pantheon on 11th November 2020, French President Emmanuel Macron has commissioned a new installation of sculptures by Anselm Kiefer and a composition by composer Pascal Dusapin.
It has been almost a century since a new work of art has been installed in the Pantheon – the most recent being the monument Aux Héros Morts Inconnus [To the Unknown Dead Heroes], by Louis-Henri-Bouchard, installed in 1924.
The 2020 commission includes a vocal composition by Pascal Dusapin entitled In Nomine Lucis [In the Name of Light] and six sculptures by Anselm Kiefer. The works will be inaugurated in the church on the 11th November.
Anselm Kiefer's work, Des coquelicots et une nuée de plomb [Poppies and a cloud of lead] is comprised of six monumental sculptures in display cases. The sculptures are emblematic of Kiefer's visual vocabulary and present numerous books and clouds of lead, barbed wire, flowers and dried poppy seeds, in specific reference and commemoration of the country's war dead. Noting the genesis of the installation, the vitrines are punctuated with quotes by Maurice Genevoix.
Originally undertaken during the lockdown period earlier this year, Kiefer became so transfixed with the commission that he went far beyond the initial proposal, adding a further two large scale paintings in direct homage to Ceux de 14 [Those of 14], the major book by Genevoix. These two new paintings will be exhibited at the Pantheon for the first time alongside the sculptural installation on a temporary loan.
The artist has generously gifted the six sculptures Des coquelicots et une nuée de plomb [Poppies and a cloud of lead] to France – the country where he has lived for almost thirty years.
livestream of the Panthéon ceremony, 11 Nov 2020