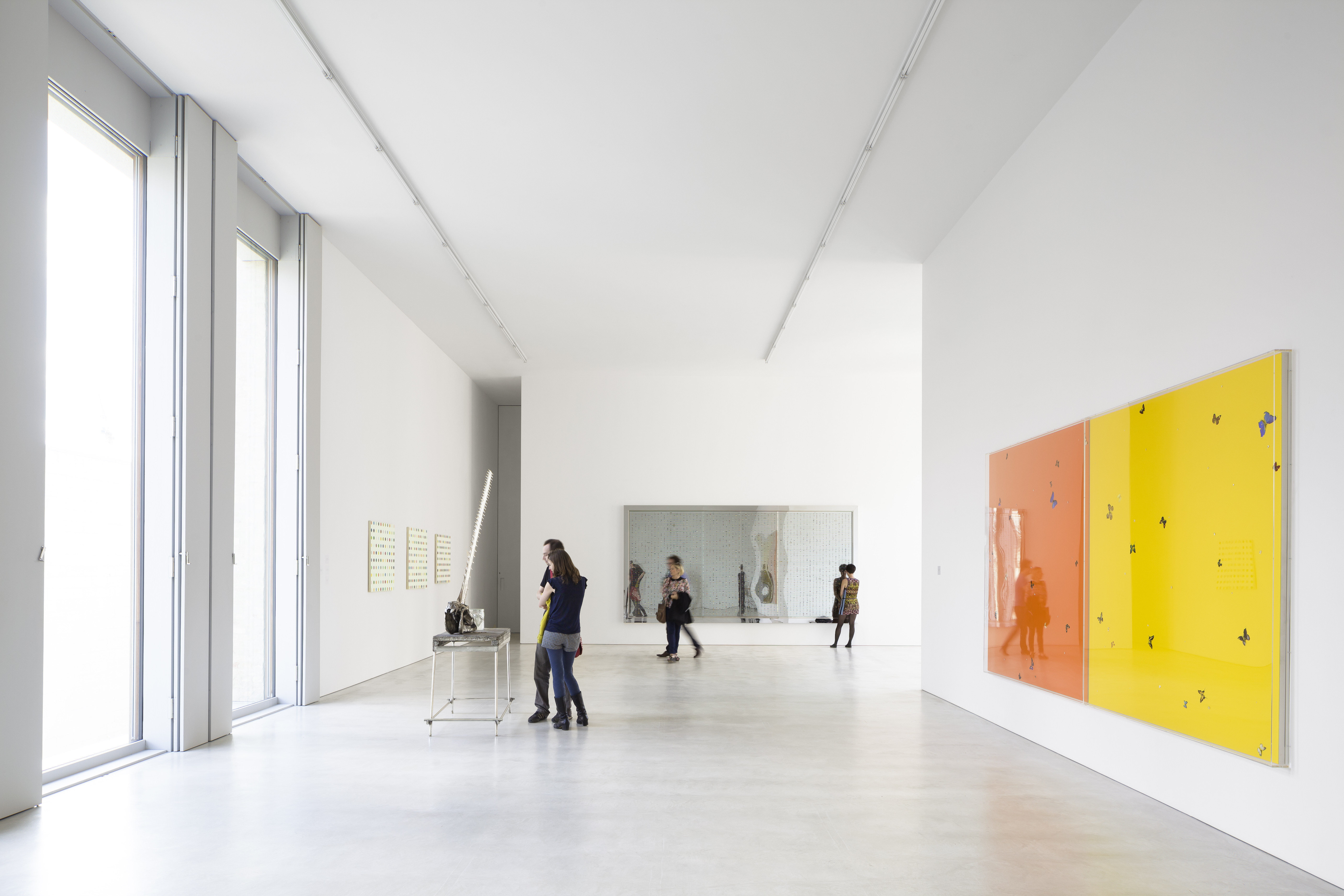 Exhibition Dates
20 April - 28 July 2012
Address
BASTIAN
Am Kupfergraben 10
10117 Berlin-Mitte
The centerpiece of the exhibition is one of Hirst's first pill cabinets: »The Void« (2000). It is an anonymous extract of emptiness, of void, and its infinite structure extends beyond all limits, beyond endless societal structures. The work has no end, no beginning. Hirst has long abandoned the idea of illusion – and this seems to be the aim of his creation: to illustrate the pain that only exists in objects. This ambiguity grows out of the apparent intimacy: the connotation of pharmacological adventures that we ourselves invent like a final tool against the fatal diagnosis of violence and repetition.
Several »spot paintings« are exhibited, all bearing titles refering to pharmacological substances. "Art without fear. They always prove to be happy", says Damien Hirst. The beholder is inclined to recognize pills in the abstract forms, yet, seriality, structure, color and surface are essential for the artist: "I just move colour around on its own. So that's where the spot paintings come from – to create a structure to do those colours, and do nothing. It is just a way of pinning down the joy of colour."
A fiery painted skull is positioned in the centre of a monumental tondo, the two-meter »Spin-Painting« »Beautiful the Death of God the Birth of the New Universe Painting« (2005). Spectral bundles of rays in black, red and gold run from the center to the edge of the canvas. On the opposite wall, iridescent butterflies flutter on a bright monochromatic orange and yellow background. Just like the skull on the tondo, they are codes for transience and death. And are these insects not reminiscent of ancient imagery, which often shows the human soul escaping from the body in the form of a butterfly? In these exquisitely poetic butterfly paintings, disengaged dream-settings, Hirst finds an almost absolute form. The metaphor of death is emphasized by the title »Oranges and Lemons«, an allusion to the eponymous English nursery rhyme with the gruesome ending "and here comes a chopper to chop off your head/ chip chop chip chop – the last man's dead".
The viewer of Hirst's paintings cannot resist this visitation: the flash of beauty as a tragic moment. Or even more: the unimaginable latent disaster of a boundless, virtual spirit of destruction and the insufficiency of what we imagine to be perpetual. Transience is also the theme of the sculpture »Unicorn – The Dream is Dead« (2006): Unicorn tears can bring the dead back to life and their blood promises immortality – the price, however, is eternal sorrow.
Hirst's painting is the inversion of painting: Standing before the pictures, one is overwhelmed by their beauty, led into all the riddles of darkness, of silence, and of the moods to which we are subject, sometimes without concretion – and finally to the indeterminacy of their meaning.