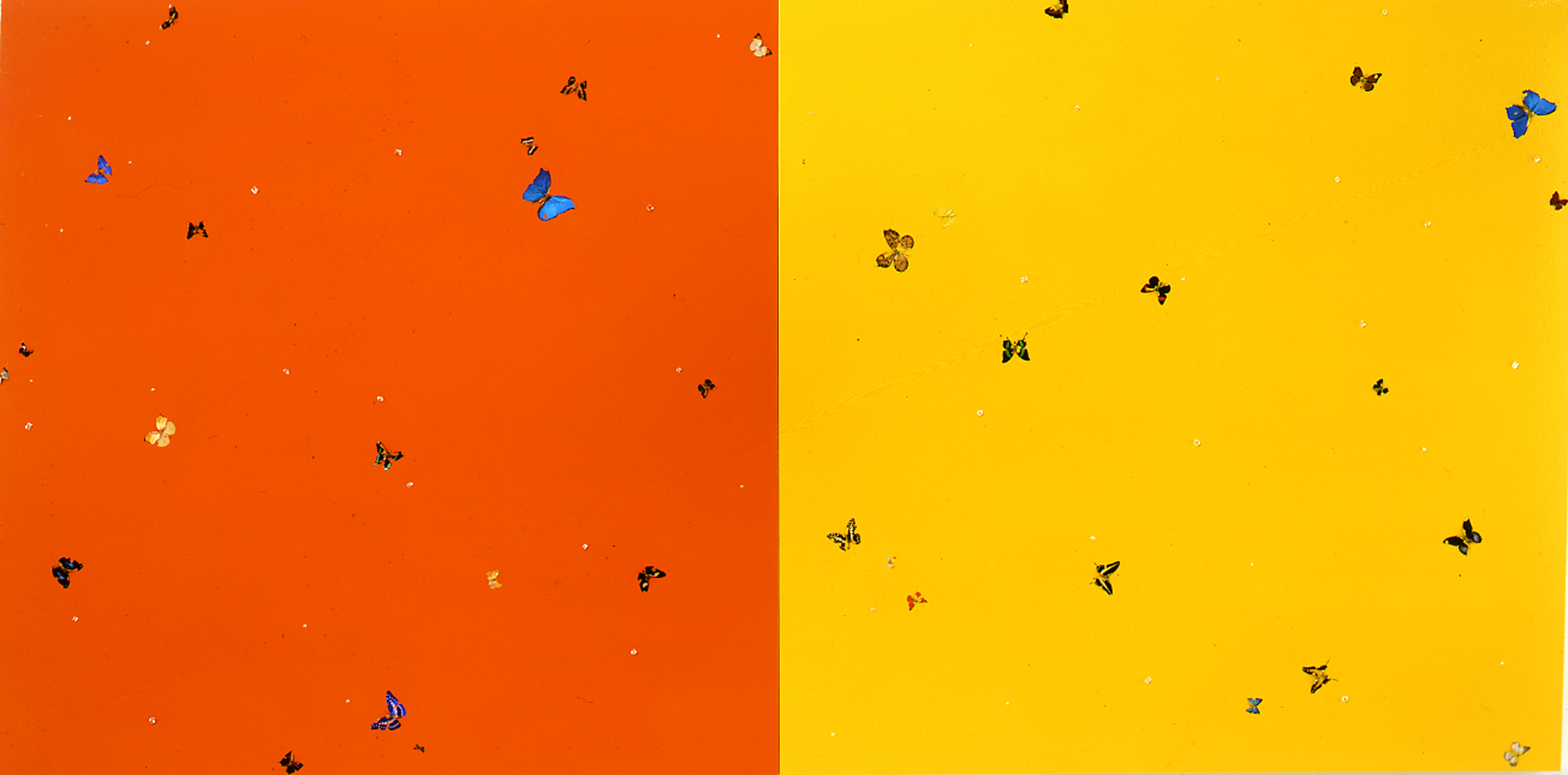 Exhibition Dates
20 January - 29 April 2018
Opening
19 January from 6 - 8 PM
Address
BASTIAN,
Am Kupfergraben 10,
10117 Berlin
In the tradition of Western art, butterflies often symbolise the overcoming of death: in accordance with iconography, they represent metamorphosis, resurrection and even immortality. In that sense, after the decease of the mortal remains, the soul is able to escape the finiteness of the individual body in the form of a butterfly.
The butterfly-diptych »Oranges and Lemons« (2008) may be understood as an explicit allusion to the 18th Century English nursery rhyme of the same title.
Here comes a candle to light you to bed,
and here comes a chopper to chop off your head,
chip chop chip chop – the last man is dead.
At first glance the work appears to be very vivid, due to the vibrant, bright colours of the butterflies, as well as the background that is characterised by radiant orange and lime-yellow. However, when put into context with the verses, it inevitably acquires a connotation that is of an ambivalent, almost antithetical nature.
The sculpture »Unicorn – The Dream is Dead« (2005) gives shape to the supposedly fantastic, materialising it in an ephemeral form.
»Clorhidrato de Palonosetron« (2007) and »Sulfisoxazol« (2007), two titles referring to medical drug substances, are part of the iconic »Spot Paintings«, included in this exhibition.
»The Stations of the Cross« (2004), a cycle consisting of 14 printed graphic works, associates Christ's Calvary with the medical achievements of our age. Descriptive writings and figures highlight the references to the Bible.
The ›fact‹ painting »Dissection Table with Tools« (2002-2003) critically addresses the promise of salvation by medicine and may therefore be understood in a similar sense.
Damien Hirst *(1965) lives and works in London and Devon, England. His works have been shown in numerous international exhibitions. In 1995, he received the Turner-Prize and in 2012, Tate Modern dedicated a retrospective to him. Last year, new works entitled »Treasures from the Wreck of the Unbelievable« were on display at Palazzo Grassi and Punta della Dogana.