Cy Twombly – Catalogue Raisonné of the Paintings Volume VI 2008 – 2011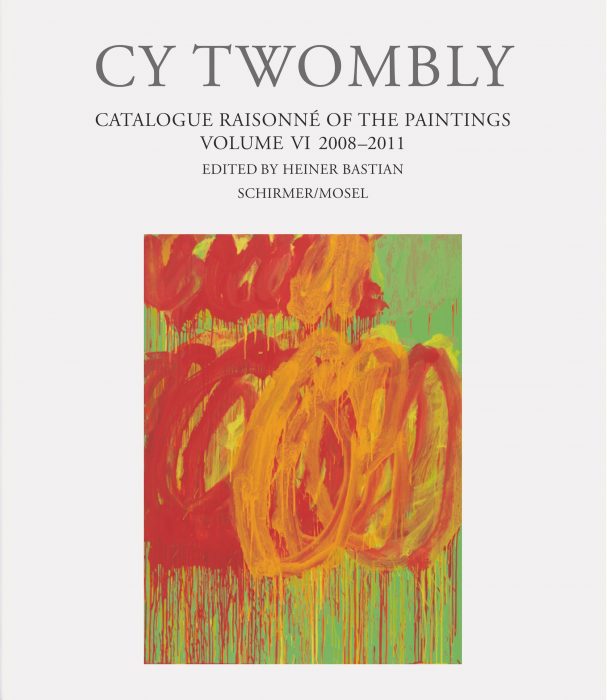 Published by Heiner Bastian
With texts by Heiner Bastian
184 pages, 67 colour plates
Size: 31.2 x 27.5 cm, hardcover
Schirmer/Mosel Verlag, Munich, 2014
English/German edition
198 € (plus postage fees)
The work of Cy Twombly is one of the most fascinating and remarkable œuvres of our time. His paintings, sculptures and drawings have been widely exhibited, both in America and Europe. Twombly's art reconciles grand themes of the »memoriae« of ancient topographies as well as modernism with the individual, personal experience of contemporary life. His pictures are often a magic dialogue between poetry and painting. Throughout his innovative work we encounter a rare spirit of aesthetic reference and original sensibility. Seldom has an artist achieved such a distinctive broad range of an ever new, surprisingly unique language in painting. The sixth and last volume of Cy Twombly's paintings assembles works, which explore and celebrate the poetic possibility for a single form, which we understand as metaphors for the exuberant colours of nature.
The first five volumes of the Catalogue Raisonné of the paintings were published between 1992 and 2009. All five publications were highly praised as the most remarkable edition on an artist's painted œuvre. The editor Heiner Bastian has known the artist and his work for more than 35 years. His books are based on his comprehensive knowledge and admiration for the artist's work.
With the publication of the sixth volume of Cy Twombly's paintings, his complete work can now be studied in profound manner. The six volumes of the Œuvre Catalogue achieve an astonishing, high quality in both structure of information and reproduction. Bastian's books have set a new standard and the edition is naturally the essential publication on Cy Twombly's œuvre of paintings.