Anselm Kiefer – Vorlesungen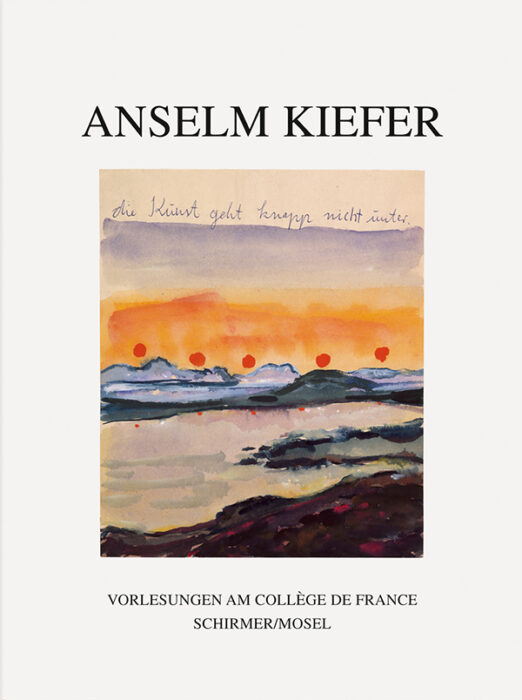 Schirmer/Mosel
136 pages
ca 150 color plates
Size: 22.5 x 30 cm
Hardcover
German edition
38 €
Price
All publications are available for mail order (plus additional shipping fees). Selected pulications can also be purchased at the London gallery.
Lectures at the Collège de France
Anselm Kiefer (born 1945) is the first visual artist to be appointed to lecture at the Collège de France, Chaire de création artistique. In 2010/11 he gave a total of nine lectures there in French. They are published here for the first time, translated into German. In his lectures, Anselm Kiefer speaks of images and analogies, of the importance of poetic literature, with which he maintains an ongoing dialogue. He describes the work in his studio, the complex paths, the detours and metamorphoses that lead to a work. In bold anticipations, he names the places where metaphysics, the history of myth structures, and modern research become his sources and references. The individual lectures show how Kiefer connects the interdependence of these spheres.
Those who read the lectures discover, as it were, a morphographic echo from the artist's laboratory and work spaces, where questions and answers are attempted between boundaries of art and life and the meaning of art.
The lecture titles are:
The art barely does not perish
Thoughts on the poem Marine
Genet, Nietzsche, Osama – Can art be reconciled with life?
Three Works
Transitions – Art and Evolution, or Jacob's Ladder
The Doric Corner Conflict
Ma Destinée
The Studio in Croissy/Barjac.