Brice Marden – Cold Mountain Studies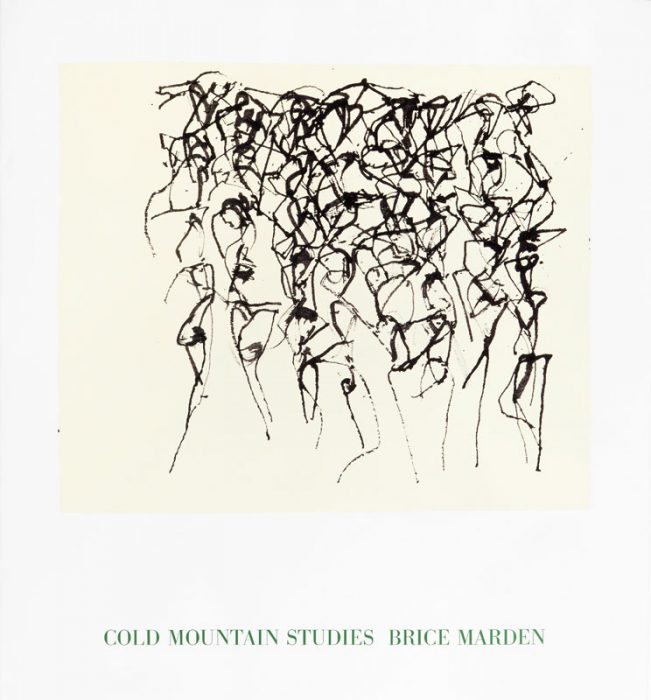 Published by Heiner Bastian
With texts by Heiner Bastian
84 pages, 35 colour plates
Size: 32.5 x 29.5 cm, hardcover
Schirmer/Mosel Verlag, Munich, 1991
English/German edition
20 € (plus postage fees)
20 €
Price
All publications are available for mail order (plus additional shipping fees). Selected pulications can also be purchased at the London gallery.
Brice Marden was born in Bronxville, New York in 1938. He attended the Boston University School of Fine and Applied Arts in Boston, Massachusetts, and the Yale University School of Art and Architecture in New Haven, Connecticut. Brice Marden lives today in New York City.
Brice Marden's work has been seen by an ever larger growing American audience since the mid 1960's: monochrome colour paintings which, some years later in the diptychs and large format polyptychs, become complex examinations of surface and colour. These works could also be seen in Europe since the beginning of the 1970's. Even in its most reduced form Brice Marden's work was never a minimalist statement, but rather a cipher which we can only read as landscapes, architectures and myths. We should see the subtle, precise colorations as the paradigm of a romantic and almost classic vision of nature. Since 1986 Brice Marden has changed his work dramatically. The monochrome paintings have been replaced by a new, abstract lineal structure which appears as a ›decipherment‹ of the preceding works. In these paintings and drawings one can feel the light, energy and space as an intense dialogue with nature. The drawings in this book are a part of this process, a field of research parallel to these new, wonderful paintings. The sheets reproduced here show how skillfully Brice Marden masters his new innovation. After seeing his outstanding work for 30 years now we regard Brice Marden todays as one of the most significant artists at the end of the century.