Anselm Kiefer – Mohn und Gedächtnis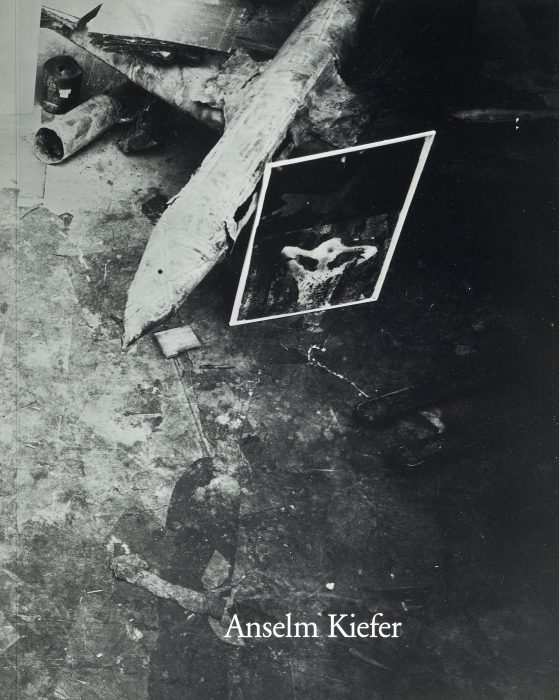 Published by Verein der Freunde des Israel-Museums in Jerusalem e.V, Berlin
With texts by Teddy Kollek, Rolf Liebermann, Anselm Kiefer and Heiner Bastian
16 pages, 6 colour plates
Size: 30 x 24 cm, hardcover
Verein der Freunde des Israel-Museums in Jerusalem e.V, Berlin, 1990
English/German/Yiddish edition
3 € (plus postage fees)
Anselm Kiefer's sculpture »Mohn und Gedächtnis« (Angel of History) is an image of failed hope. It is an image of our history and of all history, in which, time far advanced, the question of the meaning of the past fails in the face of vainness of attempting to redeem its meaning. But history is no teacher, for we have given up as a historical process in various ultimate moral ideas. The historical man is as irrelevant today as the complete society.
Painting as an interpretation of the world, as an attempt to give meaning, is Anselm Kiefer's sheer 'impossible' act of penetration, an irreconcilable metaphor which in itself evokes the contradiction of failure. Perhaps therefore his paintings resemble the work of sober sad material which in some pictures even become augustinely stated representations: it has all happened and everything which speaks and will speak is also a forgetting of what has happened.
It is possible that Kiefer's leitmotif is this moment of evocation; to salvage an archaic book in which time can stand still for a moment from myth and prophecy, from culture and emptiness, from faith and historical nihilism. This book will redeem noone and nothing, but its logic stands as an hermeneutic enigma beside our human experiences.
The »Angel of History« has as much weight as the immaterial and more being than everything material. This may be Kiefer's 'impossible' but persistent sphere.
Heiner Bastian